ABOUT CAMBRIDGE INSTITUTE
Cambridge Institute is one of the leading foreign language institute in India offering writing, reading, and speaking courses in 6 different foreign languages. Being in the education industry for the past 13 years, our Institute offers specially designed foreign language courses with quality contents coupled with better learning environment. Our trainers largely concentrate on modern teaching methods and devote themselves in improvising the foreign language speaking ability of every student. It gives more importance to the current changing trend of business and trading between two different countries for which speaking fluently is highly essential.
With this fast growing globalization world, it is important to learn different languages and set yourselves in the country which you will be visiting or residing.
And to set in that environment it is essential to speak the language of that country, this is what Cambridge Institute wants to offer. At Cambridge Institute we are committed to offering the best foreign language course for beginners. Every course will be delivered by well-trained and experienced professional trainers who will train you to set a benchmark in languages education. Learning under a world-class facility, our institute will help students to change according to the world changes. Cambridge Institute imparts training in languages like German, French, Russian, Spanish, Chinese, and Arabic. Besides this, it also offers translation and interpretation services which is much more needed in the current globalization trend.
There are many foreign companies that are looking out for people who are fluent in foreign languages with all sense. So taking this as an opportunity, this institute is offering the best language course which you were searching to get into. Right from speaking to translation, Cambridge Institute will guide you in every step during the course to set a benchmark once you complete the course. True dedication and hard work will really work wonders once you step out of the institute after completing the course.
WHY CAMBRIDGE INSTITUTE
Accredited center for D.I.E exam
We follow the international curriculum as per the common European framework
Textbooks from interactional author
World-class facilities
Well trained teachers
Security for female students
Library facilities
Showcasing movies every week in Spanish
We also provide international exam preparation courses
Free Wi-fi facility
F.I.D.E.S.C.U. – Authorised center for D.I.E. Exams
Cambridge Institute is an affiliated center of FIDESCU. We provide training for D.I.E. (Diploma Internacional de Español) which is a renowned international Spanish proficiency exam. The affiliation by FIDESCU confirms our institute as an eligible entity that can conduct International certifications for students who are keen on learning Spanish language. This certification allows students to test their knowledge and sharpen their Spanish speaking skills effectively. Being accredited as a examination center, we follow precise certification guidelines, pattern and quality controls as per FIDESCU's parameters.
Cambridge Institute is an official testing center of the world renowned D.I.E (Diploma Internacional de Español) examination which is an international diploma of the Spanish Language. The D.I.E is an internationally recognized Spanish language proficiency certification that is used as a yardstick to measure an individual's caliber in the language. You can prepare for this exam at our institute which has been recognized by FIDESCU as a testing center.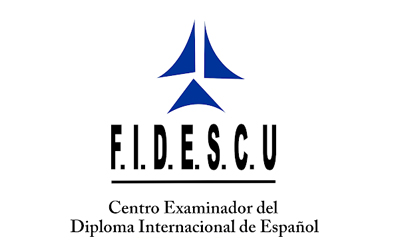 CLIENT TESTIMONIALS
Covering topics from classes to politics and student organization events.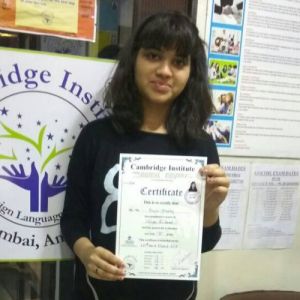 "Cambridge Institute is a wonderful place to kickstart your language learning journey. I am very greatful to Pro. Janki Makadia for making this journey very interesting. Not only did I learn about the language but culture as well. Learning this language has helped me broaden my horizons."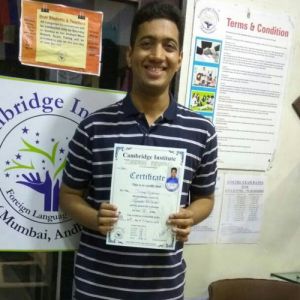 "It was fun learning Spanish from Vidhi Ma'am. I look forward to A2 Level. It was good experience. All the doubts were cleared in class. Vidhi Ma'am is supportive and friendly. The Cambridge Staff is also very helpful. "
"My Experience of learning German (A1 & A2) here was amazing. Our trainer Sukanya ma'am is a very inspiring and friendly person. So we could learn a lot from her Danke!"